Commercial Exchange: Product and proposition
A firm focus on costs and thus value mean firms need to think extremely carefully about product and proposition according to Ben Gregory, Managing Director at Teneo addressing the Inflexion portfolio at its latest Commercial Exchange.
Cost pressures are biting in the software industry and people are looking to reduce spend over the coming 12 months as they consolidate spend among vendors, according to recent research from Teneo, a global advisory firm.
"We're in a year of uncertainty, so people are delaying new purchases, and we are seeing businesses conduct reviews and sometimes reduce headcount or consolidate suppliers. Price fatigue is making above-RPI price increases harder," cautions Jessica Egan, Associate Director at Teneo. She advises driving price increases through enhanced value, "enhancements to the existing product help to defend the current value proposition against lower-cost alternatives."
Product and proposition can be key growth creation levers and should be thought of on two axes: what is being sold (repackaging/expansion of the product portfolio) and who is being sold to (expansion of the buying centre). Mapping options in this way can help to visualise what may work well – and less well – with Teneo Managing Director Ben Gregory warning that trying to do too much simultaneously risks failure. "It's best not to try and do everything at once. Focusing on one axis at a time is almost always recommended, and it really depends on the degree of maturity and saturation in the market to decide which axis to push."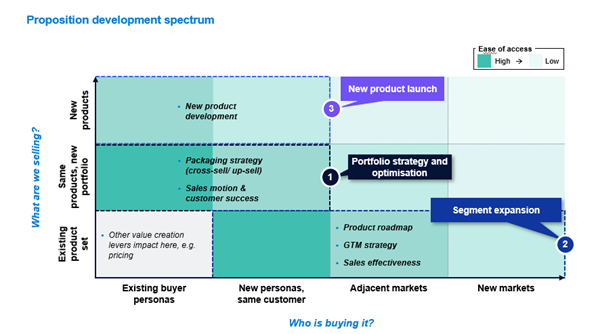 Teneo see three key elements of proposition development: portfolio strategy, segment expansion and new product development.
Portfolio strategy and optimisation
An effective portfolio strategy helps draw together a range of different product options into a logical approach that meet a variety of customer needs, and typically enables:
Tailored landing points for key buyer segments
Multiple triggers for up- and cross-sell (ideally product-led)
Share in growth with multiple upsell routes (functionality and volume)
Simplicity – persona-based tiers limit shelfware
Natural logic progression through the portfolio
Equally there are significant benefits to thinking carefully about the product range is packaged to the end customer – "good, better, best" type bundles are a great way of simplifying away complexity and helping explain to customers the range of choices available, what they get and at what price point.
Segment expansion
Expanding a company's total addressable market by addressing adjacent segment needs is also an effective approach to drive growth, frequently requiring work as part of the broader go-to-market strategy. Common barriers include critical functionality or service gaps, bundles/packages not tailored to buying requirements, referenceability, prohibitive price level (or even 'suspiciously cheap'), value articulation is poor and not suited to segment ROI drivers. Sometimes the barriers identified can be reasonably inexpensive to resolve – making this a cost-effective lever for TAM expansion.
New product development
New product launches can be highly additive but require a very robust business case given the investment requirements. Areas to consider include:
Attractiveness – does this idea/category have attractive characteristics, such as a growing market, high margin etc
Fit – does the new product fit with the core business, mission and values, or might it be dilutive?
Executability – can we actually do it? Does our tech need to be modified or updated?
Financial impact – how will it impact revenue, EBITDA and valuation multiples?
"If you can answer yes to all four, a Private Equity owner is likely to be supportive," Ben advises. Most clients have a wide range of options they could take to develop the proposition. "A robust fact base, driven off market intelligence, is key to identifying the most valuable route forward," Ben concludes.
Case Study: Chambers and Partners
Teneo has worked with Inflexion portfolio business, Chambers and Partners, a provider of data and rankings to the legal industry to devise a portfolio strategy to optimise packaging and incorporate new products to drive growth.
"A robust portfolio strategy has a clear and differentiated land point, with well-defined upsell, cross-sell and expansion routes which are tailored to use case and buyer personas," Ben explains.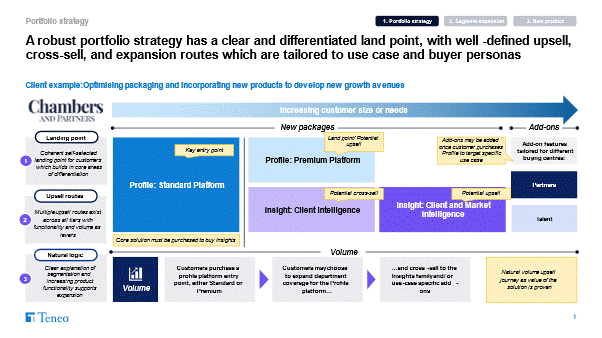 Contact